First of all, I never meant to go this long between posts, but many late nights (watching terrible movies) and working on three cosplays has had me either really sleepy or busy.
However, I wanted to post a little more in depth about the transformation post I did on EGL. So, this will be the same things just with more information.
This is me on a, more or less, daily basis, except for the fact that my hair is naturally curly, and when it's curly I don't style it like I do when I have it straightened. On a side note, the top cost me $5 at the Wet Seal, and the jeans cost me $6 or $7 at Goodwill.
I hope no one minds, but I left out my "just out of bed" picture (because it's pretty awful). However, this is me out of the bath with clean, dry and gelled hair. All I do is run some Garnier Fructis Cream Curl Sculpting Gel through my hair, when wet, and let it dry! I like to start with dry hair if I plan on experimenting with my hair or going for a poofier style, which I was trying to do both today.
All I did with this was make a 1/2 ponytail and back-comb my hair right up by my hair tie. Then I pinned two portions forward, and pulled the remaining ponytail bit back in 2 bobby pins then added the flowers and headband.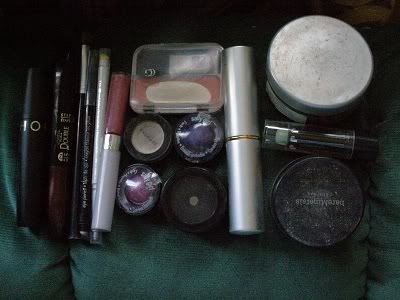 This is my make-up and I really have a range between expensive and cheap! From left to right, top to bottom this is what I have:
Sephora Lash Plumper-Black ($12)
L'Oreal Paris Double Extend Eye Illuminator ($10.95)
Target-brand eyeshadow brush (about $4)
CoverGirl Perfect Point Plus in Black and Silver (about $5 each)
Lipstick I didn't actually use
CoverGirl Cheekers Pretty Peach ($4)
Sephora Aspen Summit eyeshadow (FREE!)
Sally Girl Baked Eyeshadow Purple and Pink ($1.99 each)
Maybelline Natural Accents Phantom Grey ($4.99)
Mary Kay Telescoping Brush (FREE!)
Mary Kay Bronzer - I don't know if they make this anymore. I use it on my cheeks
Physician's Formula Gentle Concealer Green ($5.69)
Bare Minerals Powder Fairly Light ($28)
I personally wouldn't recommend the Physician's Formula concealer to everyone. I use it because I have some red scaring around my mouth and nose from cold sores. If you have something like this or consistent red spotting, buy this! It works!
Also, my Bare Minerals is love! I have very sensitive skin and break out in dry patches easily, this doesn't cause any of those problems!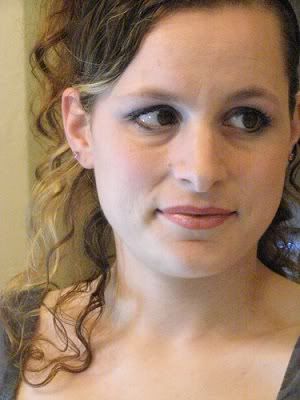 My make-up and two very flattering pictures of my face! I want to point out that I do smoky eyes, and when I do purple I like to do my outer corner in black. I just wanted to point that out, as to say black eyeshadow can look really great if you use it carefully!
Finally, here I am in my cute clock dress. I love this dress, and I love full-shirring. I'm apparently the only thin person who feels this way (but it may have to do with being thin and having a small chest).
Also, that's what I did with my detachable bow (see it on the back, there)! I felt like the back of the dress was too plain, and this was the perfect quick fix!